Ritual Vitamin Review: The Optimal Vitamin for Women
Ritual Vitamin Review: The Optimal Vitamin for Women
Ritual Vitamins for Women claim that their vitamin is the only one you will need, but is it true? I've been taking the Ritual vitamin for about 2 months now, with an almost three week stop of them to see what would happen and here are my thoughts on the matter. Just to let the people who don't really want to read the full review know, I'm still taking them, so I like what they do to me.
Ritual Vitamin Specifics
These vitamins are obviously vegan, which is why I'm putting it in a vegan blog, duh. Lol. It also happens to be non-GMO, allergen free including gluten, there are no synthetic fillers of colors, they are bio-available, and made in the USA.
The vitamins these little pills have are: K2, vitamin D3, B12, Omega-3, Boron, Iron, Vitamin E, Magnesium, and Folate.
This company is not about pseudo-science or half truths. One of their tag lines that stood out to me was "For skeptics, by skeptics".
You get 30 days worth of vitamins, and it is a subscription that will send you another bottle every month. You take 2 pills either in the morning or at night. I take them the moment I wake up and I'm not so groggy that I'm liable to choke on them.
My Thoughts on Ritual Vitamins
First Thoughts:
I love the packaging, and I still do. It comes in a clear bottle so you can see the vitamins inside. The vitamins themselves are clear capsules as well, showing a combination or liquid and tiny pellets on the inside of the pill itself, which I thought was just so neat.
Opening the bottle was an interesting experience as I was immediately  assaulted by the smell of mint. It is strong as they coat the capsules in mint oil to help facilitate a smoother swallowing experience.
Day 1:
Took the pills at 5 PM on a mostly empty stomach and they went down pretty easily compared to some of the pills I have taken over the years. My stomach started acting up about 10 minutes after I took the pills, but seemed to calm down after a half an hour or so. Could be an adjustment period or could just be hungry, not sure which.
First month check in:
Well, it did calm down and I've had no problems with taking them in the morning on a completely empty stomach now. I didn't really see an improvement in my skin, but my skin is very sensitive and my eczema can flare up easily due to who knows what. My energy has been pretty good and I seem to have more of it even on my period, which is a miracle in and of itself. I do plan to stop taking them for a couple of weeks and see if there are any changes that were so gradual that I didn't notice.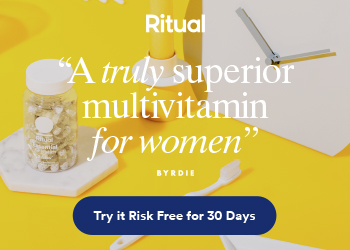 Final check in:
Well, I spent nearly 3 weeks off the pills instead of the two I was planning, but I can say that I felt my energy levels sagging, and the period that I had without these pills was more troublesome that the last one. Thankfully I'm back up to where I want to be as far as energy levels unless my eczema flares up again.
I plan on taking this every day since it does seem to be helping and I can't wait to update you all on how it's been going several months down the line.
I would definitely recommend this vitamin to any woman out there who is looking for something stream lined and easy to take.
If this helped you in any way, or if you have any questions please comment and I will be more than happy to elaborate!
Thanks for reading,
Michelle